Travel Information & Tips
Money Matters
The local currency is the TT (Trinidad and Tobago) dollar. The current exchange rate is about TT$6.80 for US$1.00 US. The national currency is the Trinidad and Tobago dollar (TTD), which comes in denominations of $1, $5, $10, $20, $50 and $100 notes. Coins come in 5, 10, 25 and 50 cents. Credit cards (Visa & MasterCard) are widely accepted at business and ATMs and foreign currency can be changed at local banks.
Major banks include First Citizens Bank, Republic Bank, Royal Bank of Canada (RBC) and Scotiabank. Daily banking hours are 8:00 am-2:00 pm Monday-Thursday and 8:00 am - 5:00 pm on Fridays (regular branches) and 10:00 am - 5:00 pm (shopping mall branches).
Taxes
A 12.5% goods and services tax (V.A.T.) is added to goods and services. There's a 10% hotel tax, and some hotels add service and utility charges.
Doing Business
If visitors have to conduct business on the island, the must note that office hours are usually from 8:00 a.m. – 4:30 p.m. for the private sector. Government offices have the same hours, but often close certain services (especially those that require cash payment) by 2:00 p.m. The corporate sector and privately owned businesses, however, will conduct business as early or as late as meetings need to be held in order to get the job done.
Mobile/Cellular Telephones
There are two major providers cellular phone service in Trinidad and Tobago: Bmobile and Digicel. Both provide great mobile service and free and easy roaming facilities. International cellular roaming services are available and if visitors have installed a roaming application in their home country, they can simply turn on their sets and make calls. Prepaid phone cards in a number of denominations for mobile phones (Bmobile and Digicel Cards) are available for sale at all Customer Service Centres and from many other vendors throughout the islands. Look for the 'Phone Cards Available Here' sign.
Internet & Wi-Fi:
Most accommodation providers offer internet access and WiFi to guests to clients. Additionally, both Bmobile & Digicel have 4Gnetworks and offer portable Wi-Fi devices. There are also free Wi-Fi Hotspots at various locations on the island where visitors often frequent.
__________________________________________________________________
Travel tips for your Tobago holiday
Stay connected: If you plan to holiday in Tobago for a considerable length of time, you should think about getting a local SIM card. Local mobile phone network providers are Digicel and Bmobile, both of which offer prepaid SIM cards and plans inclusive of unlimited data.
Consider an off-peak visit: If you can, consider traveling to Tobago during the off-peak season which can save you a lot of money. Tobago's peak season runs from January to May, also known as the dry season. It's cooler and rains little and is the most expensive time to visit.
Off-peak seasons runs from June to December, also known as the wet or rainy season. (It's more humid, the sea is warmer, and warm, tropical rain usually comes in short, sharp bursts and freshens the greenery.)Because there are over 101 things to do on the island, even if you come during off-peak season, you're still guaranteed to have a memorable holiday experience in Tobago.
Stock up on sunblock: The sun is extremely strong in Tobago, with temperatures averaging 30° -32°C and the UV Index can reach as high as 12. As you explore all of the unspoilt gems of Tobago, it's very important to protect your skin during the day. Wearing sunscreen of SPF 50 or higher, hat, sunglasses, and long sleeves where possible go a long way in protecting your skin against the sun's harmful UV rays. Limit exposure during midday hours or seek shade
Learn some Tobago twang: Although English is the official language, there are a number of words and phrases that are influenced by French, Spanish and Dutch colonization. Learning some key phrases can enrich your cultural experience, make you feel more comfortable and connect with the people you'll meet during your stay.
Getting To Tobago
Getting Around Tobago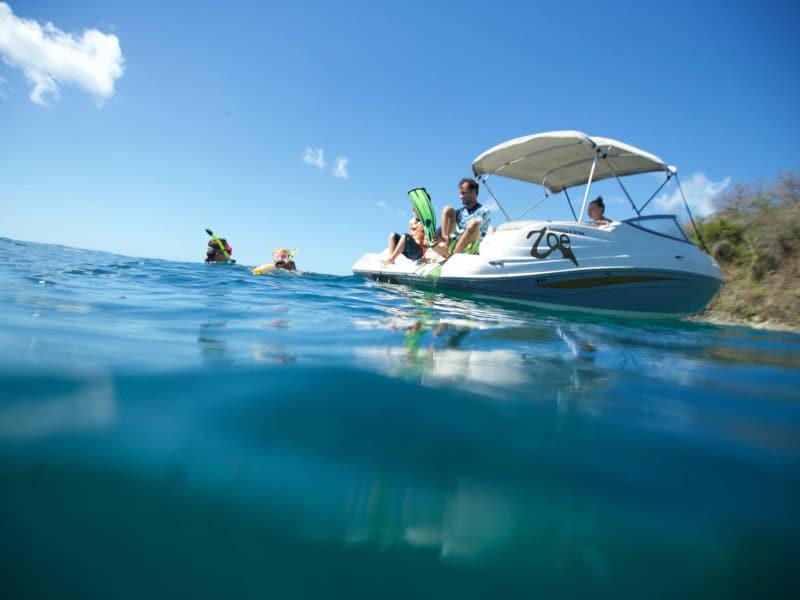 Tours & Activities