5 Reasons Your Next Vacation Should Be in Tobago
Posted Feb 01, 2021
I first visited Tobago, the lush island in the southernmost reaches of the Caribbean, on business. Moreover, in a matter of days I was dreaming-up plans to return over the Christmas break with my family, fellow beach enthusiasts of the highest order. As I predicted, they too quickly fell under the enchanting spell this piece of paradise exudes.
Tobago is located only 35 kilometers from its larger, sister island Trinidad, but in reality it might as well be a world away. And that's a big part of the island's enduring, low-key appeal.
Not long after our return home in January 2020, the world went into lockdown and soon previously planned trips turned into future travel credits. While I enjoyed my travels across Canada this summer, as we settle in for another long winter, I find myself looking back. I dream of those picture-perfect beach days, otherworldly hikes through the rainforest, the sheer joy in the midst of a bioluminescence tour, and genuine warmth of the people we met. While the island is relatively small, I feel like there is still so much more to see and do.
When asked where I want to travel next, the answer comes easy. Here's 5 reasons why Tobago comes out on top:
 
When asked where I want to travel next, the answer comes easy. Here's 5 reasons why Tobago comes out on top:
Reason #1: Untouched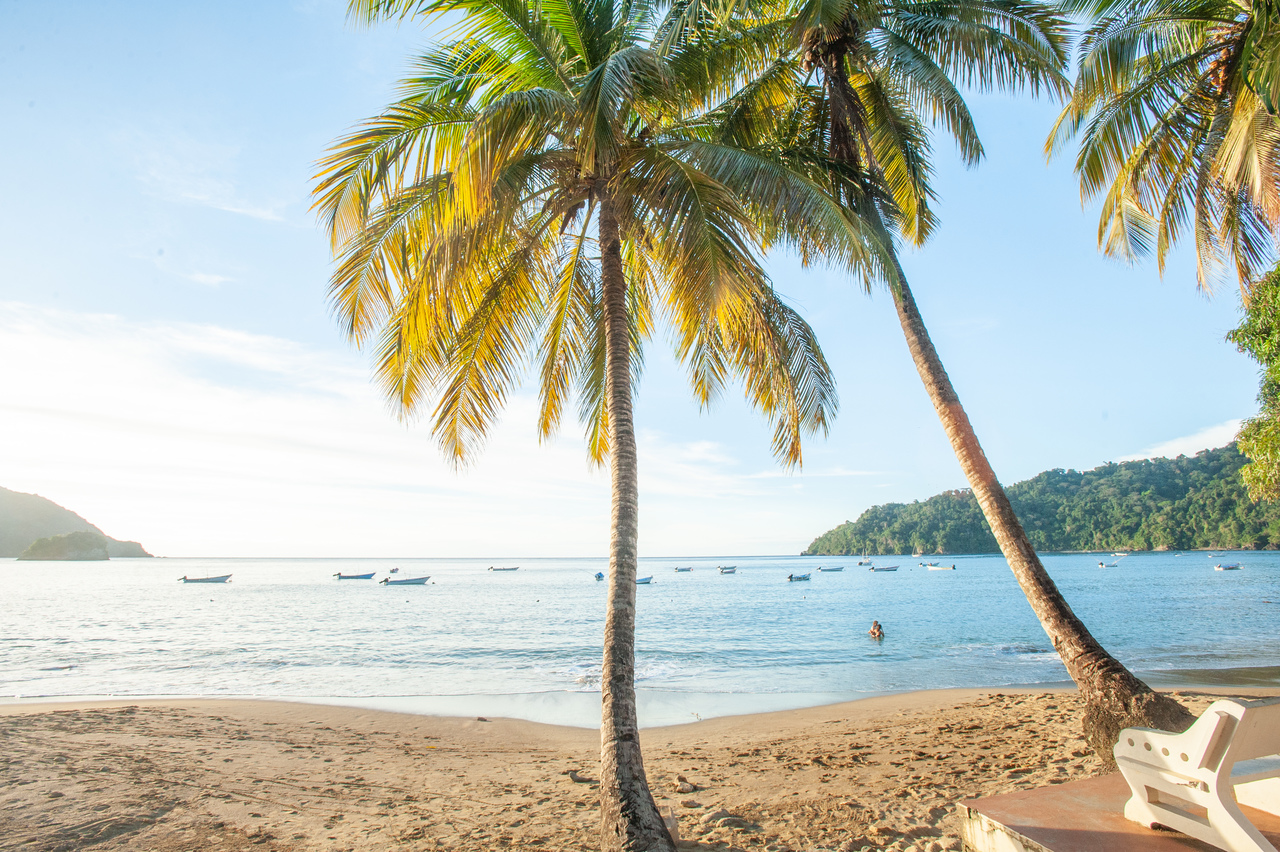 The island's official tourism tagline is unspoilt, untouched, and undiscovered. It really is! There is no mass-tourism there. Tobago feels more like a charming boutique hotel than a Caribbean mega-resort.
The entire island is completely surrounded by some of the most striking, natural beaches in all of the Caribbean. The interior is covered in an emerald green rainforest that is been legally protected since 1776. A peaceful hike through the Main Ridge Forest Reserve is not to be missed. 
 
Reason #2: Physical Distance Is A Way of Life
Living in a crowded city, which I love, you do not often get to experience the luxury of personal space. Unlike some busy Caribbean destinations where it can require a strategy just to secure a lounge chair, Tobago offers as much (or as little) space to spread out as you desire. 
One typically blue-skied afternoon we enjoyed Englishman's Bay, voted as one of the Caribbean's best beaches, entirely to ourselves. It was a similar non-scene later that day at Argyle Falls. Tobago offers space in spades.
 
Reason #3: The Food!
Elsewhere, island eating can be an unsavory mix of boring buffet-lines or chain restaurants serving-up familiar fare, but not in Tobago. The island's many independent restaurateurs offer diverse menus of local and international delights. Over the course of our seven day Christmas holiday stay, we didn't have a bad meal once (and I travel with some picky palettes).
We enjoyed fresh-caught seafood, authentic Italian pizza and pasta, and local favourites like callaloo soup and macaroni pie. With options ranging from reasonably-priced fine-dining on scenic seaside terraces to seriously affordable, and super-satisfying street eats, you'll be surprised at all Tobago has to offer. My favourite part was not having to plan ahead and stress about reservations. Most restaurants generously offer a warm welcome to walk-ins.
Reason #4: Reconnect With Nature
I find myself craving time outdoors, even more so than usual. This sense of disconnection from the natural world is not surprising. Even prior to coronavirus lockdowns, studies show most of us were spending 90 percent of our time indoors. A trip to Tobago is truly the antidote. 
With more than 260 species of birds, the island has a natural soundtrack that gently envelopes all of your activities.  Once under the water, the island's vibrant coral community rewards you with some of the best diving and snorkeling sites in the Caribbean. Healthy reefs still teem with aquatic life here. 
Reason #5: Beyond Ordinary
Tobago is not like other Caribbean destinations. And that's what draws me back. It's decidedly off-the-radar. The sense of adventure is real and you can reveal it at your own pace. It's extremely safe and across the island broad smiles greet you at every turn. 
To get a taste of the island, this 3 minutes tour by National Geographic offers an immersive overview. Warning: The following may leave you reaching for your passport. 
 
To learn more about the latest travel advisory updates, click here.
Post by Tim Gallant